Creating the life you've always wanted on paper is one of the most powerful ways to make it happen. It begins the process of shifting your thinking and behavior to enable change. Through a series of playful, guided imageries and freewriting exercises, this workshop will help you gain clarity around your dreams and goals, prepare to receive them and learn to recognize when they've arrived.

© 2008 Rita Farin. All rights reserved. Photography by
Jim Sichinolfi
.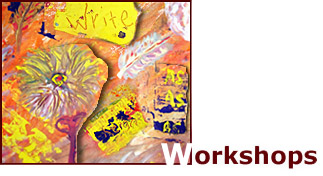 Begin looking at your projects, dreams and life through new lenses. This introductory session to our six- and twelve-week workshop series provides an overview of the crucial elements to creativity, innovation and change. Learn some fun, interactive exercises that will help ignite innovation in your professional work, infuse creativity into your everyday life and enable you to make the changes you've always desired.

Learning to wear your creative-colored glasses.

Tools for igniting and managing creativity, change and innovation.

Where?   Decatur Healing Arts

                109A New Street

                Decatur, GA 30030

When?     Saturday, November 21, 2009

                2 - 3:30 pm

Cost:        $15

Ananda Bhav Yoga Studio

165 West Wieuca Road NE, Ste. 102

  Atlanta, GA 30342

Saturday, January 9, 2010

2 - 3:30 pm

$15

This introductory workshop will take place at several locations in Atlanta, GA and Wilmington, NC. To sign up for a workshop in North Carolina, email Eliz.Humphrey@gmail.com.
**Pre-registration is required. Workshop is limited to 10 participants.

To reserve your spot, you may pay by credit card below or send a check in advance. To pay by check, please email rita@ritafarin.com.
Upcoming workshops and presentations.  

David Bowie's song captures the paradox of change: while everything is constantly shifting around us, we're designed to resist and fear change. Whether you've chosen to make a positive life change or are dealing with an unexpected circumstance, times of transition bring up a number of common issues, including resistance, resentment, procrastination and overwhelm. Learn about the process of change and how to shift your thinking and actions to make transitions easy and sustainable. So you can create the life you've always wanted.

"Ch-ch-ch-ch-changes, turn and face the strange…"

A presentation on managing change and transition.

$35, Saturday, Nov. 7, 2009, 2-4:30 pm, Ananda Bhav Yoga Studio, Atlanta

Free, Thursday, November 5, 2009, 7 pm

Congregation Bnai Torah, 700 Mt. Vernon Hwy. Atlanta, GA 30328