The written word has great power. To change your reality, begin speaking, thinking and acting in a new way. And write about it! If you can create your dreams on paper, they often come true. Through a series of playful, guided imageries and writing exercises, this workshop will not only let you envision a new future, but will also unleash the power of your own words—helping manifest your innermost desires.

Everyone can write. But sometimes our minds can get in the way. This workshop series is designed for people to relax and play with words. Have you ever written to music? Written like you move? Using different modalities, including music and movement, we'll disengage the mind and let the words that have wanted to come out, flow through us and onto the page. Great for first-time writers or any type of artist wishing to unblock the creative flow.

Unleashing the words within.

© 2008 Rita Farin. All rights reserved. Photography by
Jim Sichinolfi
.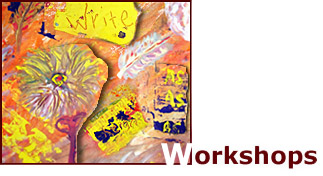 To schedule these workshops or presentations for your group or event or if you're interested in participating next time they're available, please email rita@ritafarin.com
Whether you'd like to start a new business, write a book, paint a landscape or change careers, transitioning to a creative life not only takes courage to do what you've always wanted to, but also requires a new approach to thinking and doing things. Rita Farin left a 20-year career in marketing to become a full-time writer, artist and creativity coach. In her presentation, you'll learn to understand the creative process, how to take small steps and other compassionate ways to make your transition easy, fun and sustainable. So you can start living the life you've always wanted.

Take one small step toward a creative life.